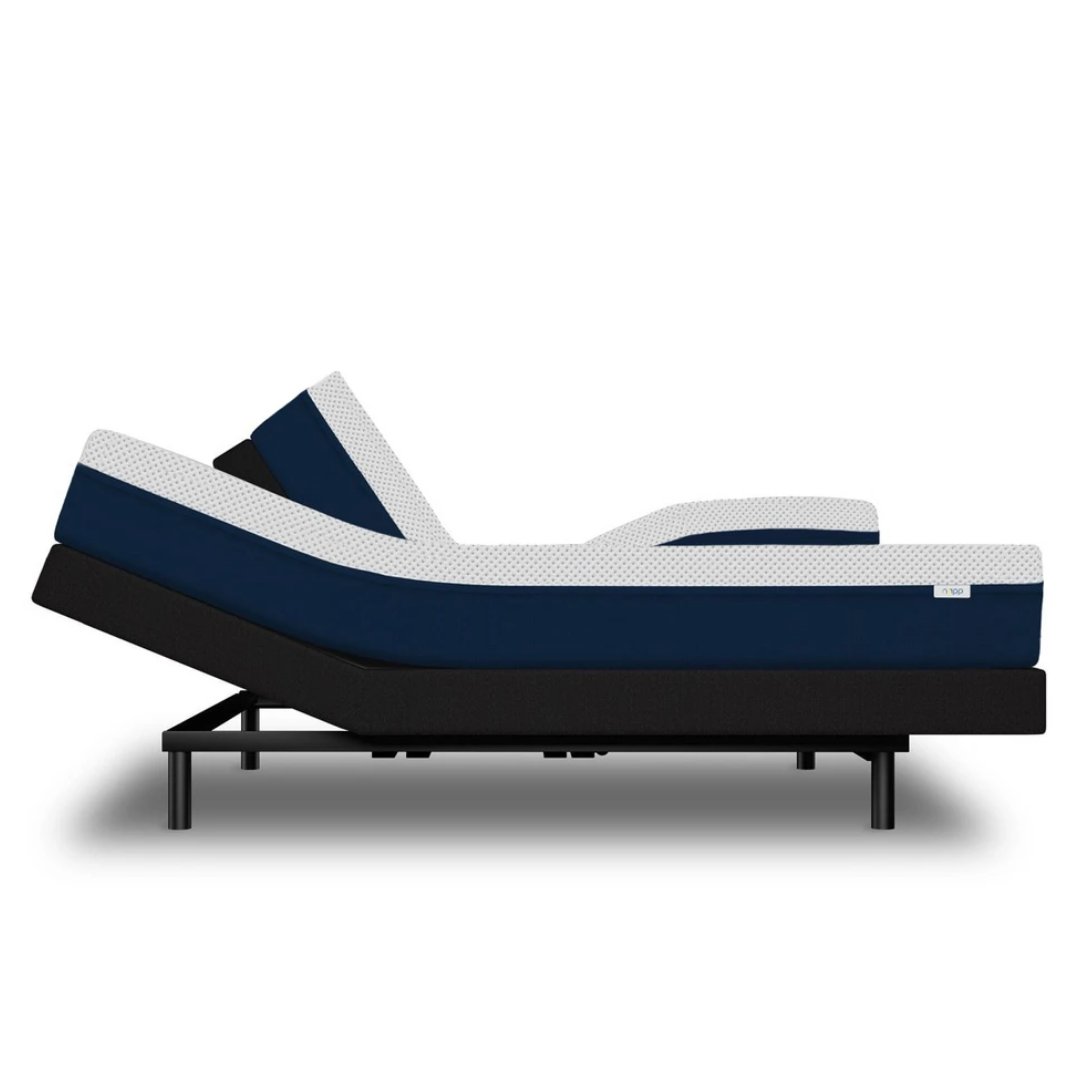 REFRESH - Split Adjustable Bed
Learn More
All Napp split Adjustable Beds include the Napp Mattresses
In stock
Sleep better and improve your health on a Split REFRESH Adjustable Bed with Napp Mattresses.
The key functions that you need for a more restful sleep. INDIVIDUAL articulation at the Head and Foot ends to the same angles of Adjustable Beds that cost so much more, all from super quiet and reliable German OKIN Motors.
Features include one push Zero G, Flat and a user friendly back-lit remote.
Rest easy too, knowing you have a 10 Year Manufacturers (since 1899) Warranty.
Save $100s through to $1000s on our high spec Electric Adjustable bases combined with perfectly suited NZ made Napp Original Mattresses or easy upgrade to Napp Prestige Plush, Medium or Firm options. Of course in a SPLIT size, you can choose the Mattress you want, it doesn't need to be the same as your partner!
Split King and Split Cali King+ REFRESH sizes are in stock :)
Split Super King is back in stock on the 12th of December
Napp Original Mattresses are in stock, please allow a week or two to dispatch upgrades to Prestige Mattresses 

*Headboard, accessories etc. in photos not included
Features at a glance:
Feature

REFRESH

INVIGORATE

ENRICH
UPLIFT

Head and Foot Articulation

✓

✓

✓
✓

Wireless remote 

With flashlight

With flashlight

With flashlight

With flashlight

Pre-set positions

Flat and

Zero-G

Flat/Zero-G/TV/Quiet sleep

Flat/Zero-G/Quiet sleep

Flat/Zero-G/

Memory buttons

2
1
1

Massage

Three intensity
levels + Wave

Three intensity 




levels + Wave

Three intensity 




levels + Wave

Adjustable Lumbar Support

✓

Overall Incline Control

✓

Overall Height Adjustment

✓

Bluetooth connectivity

✓

✓

✓
✓

USB ports

✓

✓
✓

Under Bed lighting

 

Floor strip LEDs

Floor strip LEDs

Floor strip LEDs

Retainer bar/s

✓

✓

✓
✓

Wall Hugger

✓

✓

Option Safety Rail/Support

✓

✓

Headboard compatible

 

✓

✓
✓

Adjustable leg heights

10cm, 12cm or 22cm

7cm, 13cm or 20cm 

7cm, 13cm, 20cm

7cm, 13cm, 20cm

Colour

Black

Black

Black
Black

Depth of Base

12cm

16cm

24cm
24cm

Weight limits

Approx. 340kg
per base

Approx. 340kg
per base

Approx. 400kg per base

Approx. 400kg per base

10 year Manufacturers Warranty

✓

✓

✓
✓
Split Super King Refresh with Napp Mattress