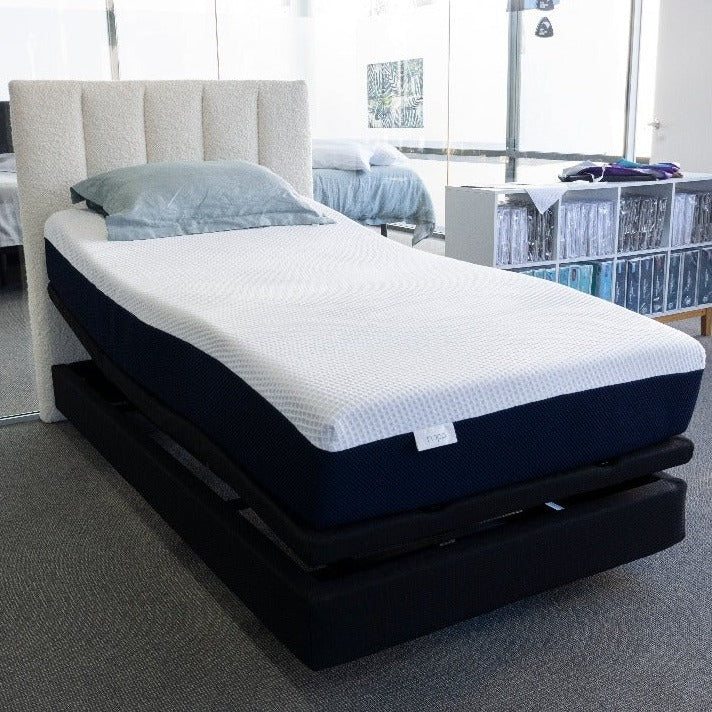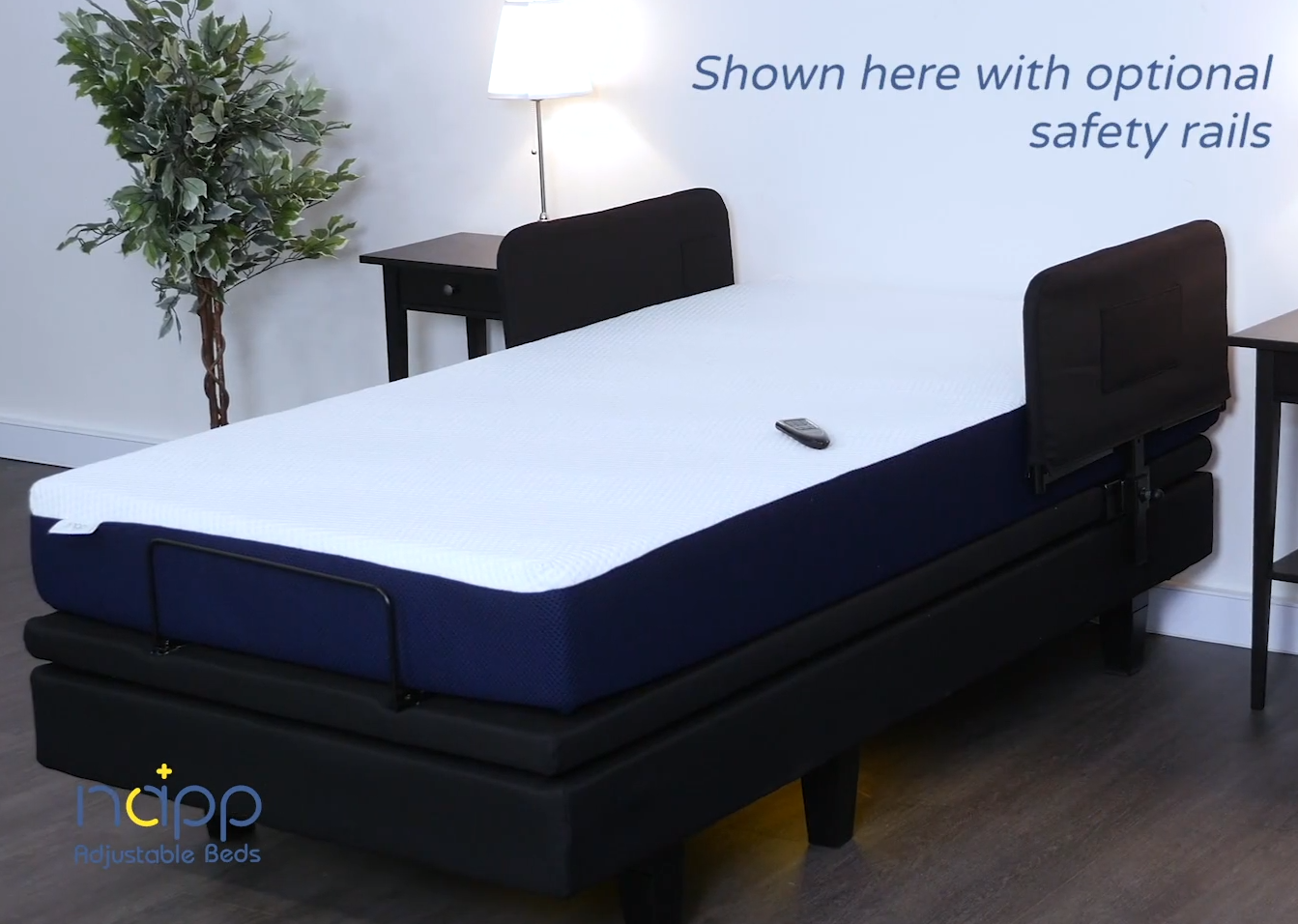 UPLIFT Bed
Learn More
All Napp Adjustable Beds include the Napp Mattress
In stock
Sleep better and improve your health on an Electric Adjustable Bed.
Looking for the benefits of a Hospital/Home Care Bed but something that looks so much better?
With remote control adjustment of the head end, the foot end, overall incline and overall height control - the UPLIFT offers the perfect solution to helping someone (yourself or someone you care for) with limited mobility to get in and out of bed.
Depending on how the legs are set up when the bed is installed (all options are included), the Overall bed height (floor to top of Napp Mattress) in the lowest position can be as low as and then raised to, via the Remote Control;
57cm - raise through to 80cm
63cm - raise through to 86cm
70cm - raise through to 93cm

There is also an optional extra of castors, with castors (used alone or with the leg options above) the Bed can be set up to the following heights and then able to be raised a further 23cm; 56cm, 62cm or 69cm.
It can be stopped at ANY height in between the low and high settings.
All sizes in STOCK :)

*Headboard, accessories etc. in photos not included
Features at a glance:
Feature

REFRESH

INVIGORATE

ENRICH
UPLIFT

Head and Foot Articulation

✓

✓

✓
✓

Wireless remote 

With flashlight

With flashlight

With flashlight

With flashlight

Pre-set positions

Flat and

Zero-G

Flat/Zero-G/TV/Quiet sleep

Flat/Zero-G/Quiet sleep

Flat/Zero-G/

Memory buttons

2
1
1

Massage

Three intensity
levels + Wave

Three intensity 




levels + Wave

Three intensity 




levels + Wave

Adjustable Lumbar Support

✓

Overall Incline Control

✓

Overall Height Adjustment

✓

Bluetooth connectivity

✓

✓

✓
✓

USB ports

✓

✓
✓

Under Bed lighting

 

Floor strip LEDs

Floor strip LEDs

Floor strip LEDs

Retainer bar/s

✓

✓

✓
✓

Wall Hugger

✓

✓

Option Safety Rail/Support

✓

✓

Headboard compatible

 

✓

✓
✓

Adjustable leg heights

10cm, 12cm or 22cm

7cm, 13cm or 20cm 

7cm, 13cm, 20cm

7cm, 13cm, 20cm

Colour

Black

Black

Black
Black

Depth of Base

12cm

16cm

24cm
24cm

Weight limits

Approx. 340kg
per base

Approx. 340kg
per base

Approx. 400kg per base

Approx. 400kg per base

10 year Manufacturers Warranty

✓

✓

✓
✓
King Single Uplift with Napp Mattress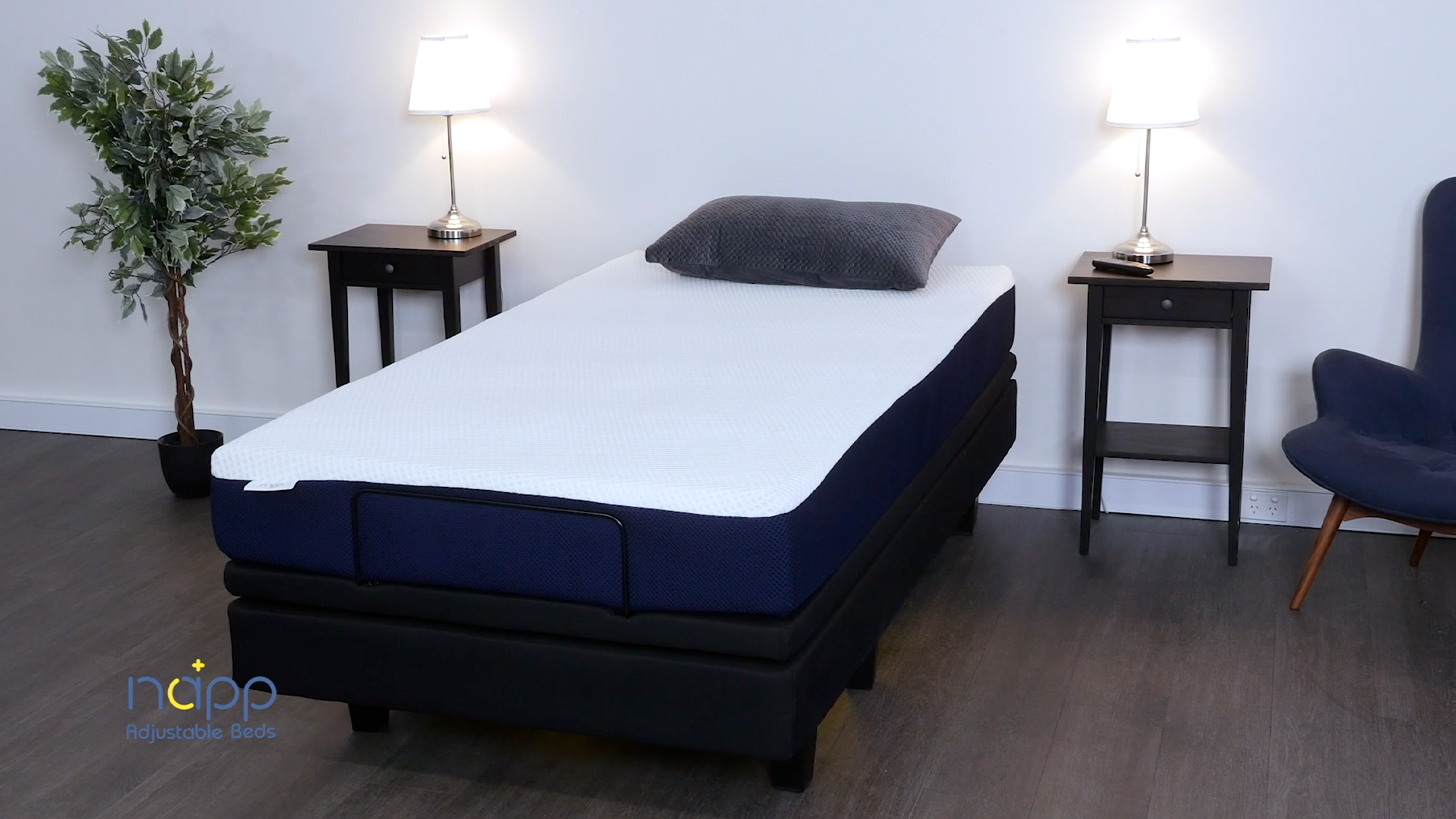 Split Super King Uplift with Napp Mattress